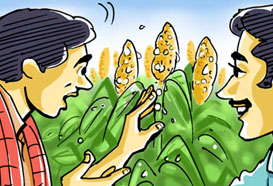 A poet, a harvester and Massey
The sun is just rising. The mood is soft and the poet in Sunil is raring to go. The mood is shattered when an agitated Anil explains that work is held up because the crop is wet. Sunil says not 'nami' (moisture) but 'kami' (limitation) in the tractor is holding up work. He explains that better technology ensures that 'nami' (moisture) does not affect a Massey tractor with a harvester.
Click and see how while some tractors can operate a combine harvester, only Massey tractors provide best in class productivity even in wet crop condition.
Enquire now
Enquire now